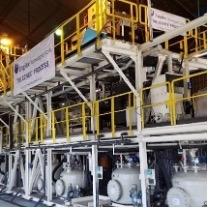 Providing customers with leading environmental services and products is at the very heart of Harsco Environmental's business. When an opportunity arose to collaborate with a trusted technology partner to further reduce hazardous output for a major customer, Harsco Environmental was all in.
This autumn, the Company's technology partner, Engitec, will complete an important Scope Engineering Study for an Electric Arc Furnace Dust (EAFD) processing plant. EAFD is a hazardous waste generated from the use of an Electric Arc Furnace (EAF), a tool utilized in steelmaking. The end goal of the study is to convert hazardous waste into valuable material by producing a process that allows for a high-purity metallic zinc end-product.
Our partner, Engitec, is a Milan-based engineering technology company specializing in hydrometallurgical processes - the separation and extraction of metals based on the reaction to aqueous solutions in order to obtain metals from their ores. Their Ezinex process takes the EAFD through leaching, purification, and electrowinning, or metal recovery from a solution using an electric current.
Steel often goes through a process called galvanization where a protective zinc coating is applied to prevent rusting. This study specifically provides solutions for byproducts with high levels of galvanized materials. The EAFD contains significant amounts of zinc, classifying them as hazardous materials. They then are either sold to off-takers at low cost or are landfilled on a case-dependent basis.
The study presents a more sustainable option, utilizing the customer's EAFD to supply their galvanization plant requirements. The process would also provide a surplus for sale on the commodity market.
Beyond determining an optimal plant layout and capacity, and informing permitting applications, the project's final objective is for the plant to have a processing capacity of up to 100,000 TPY of EAFD and a production capacity of up to 42,530 TPY of metallic zinc. The plant feedstock would come directly from the customer, plus additional EAFD bought on the market. Harsco Environmental will continue to deploy operational and maintenance services.     
Learn more about how we turn waste into unimagined value.